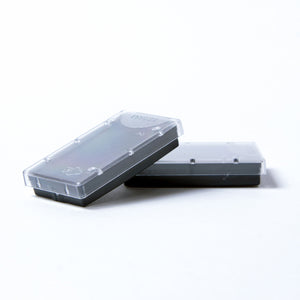 Mine Stamp Refill
This stamp ink refill keeps your Minestamp (sold separately) stamping for about a year (1000 stamps).
Extra ink for Minestamp personalized label stamp (sold separately)

Materials: Polystyrene, polypropylene, ABS, rubber, textile ink

Care: Before stamping garment, wash thoroughly to eliminate any trace of starch. Wait at least 24 hours after stamping before washing stamped garment

Contains 2 ink pads with indelible ink

Each ink pad lasts 1 year or about 1000 impressions

Non-toxic, wash resistant black textile ink

This is not a toy. For adult use only

Made in Austria

Dimensions: 1.75" x 1.25"

Weight: 0.025 lb.